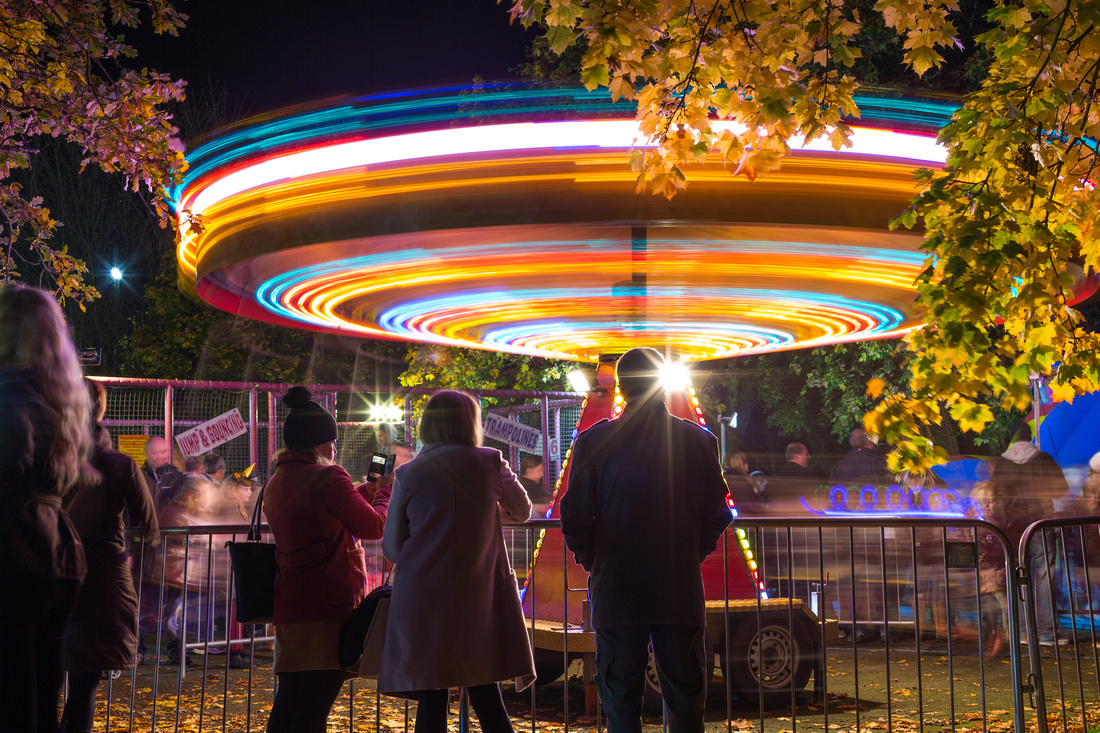 Bonfire night is fantastic for photography with all of the lights, sparklers, fireworks and people there is an abundance of subjects and opportunity for some stunning photos. However, it is also one of the most difficult occasions to photograph in and can often leave photographers feeling frustrated and underwhelmed as their photos come out blurry, overexposed, grainy or just out of focus. I have suffered from all of these issues and when a good friend of mine asked me this morning about the best settings to photograph a fireworks display that she was attending this evening, I thought I would write a blog to try and demystify the process of getting the shot in these conditions and share some photos with you that were taken at a recent display in Tunbridge last week.
The first thing to note is that the displays are not just about the fireworks and provided people are ok with it, there are plenty of opportunities to take interesting shots of them enjoying the event. The above photo was taken in my role as the official photographer for the Round Table, who were hosting the display in a bid to raise funds to pay for a local junior football academy and also to furnish the parks of Tunbridge with static table tennis tables. The evening was successful in raising over £7000 for these causes which I feel proud to have contributed in a small way by documenting the event for future awareness raising. I would otherwise not advise that you take photos of random children without their parent's permission as this could end badly, this child actually won the fancy dress competition the previous year and her parents encouraged me to take some candid shots in anticipation of another win.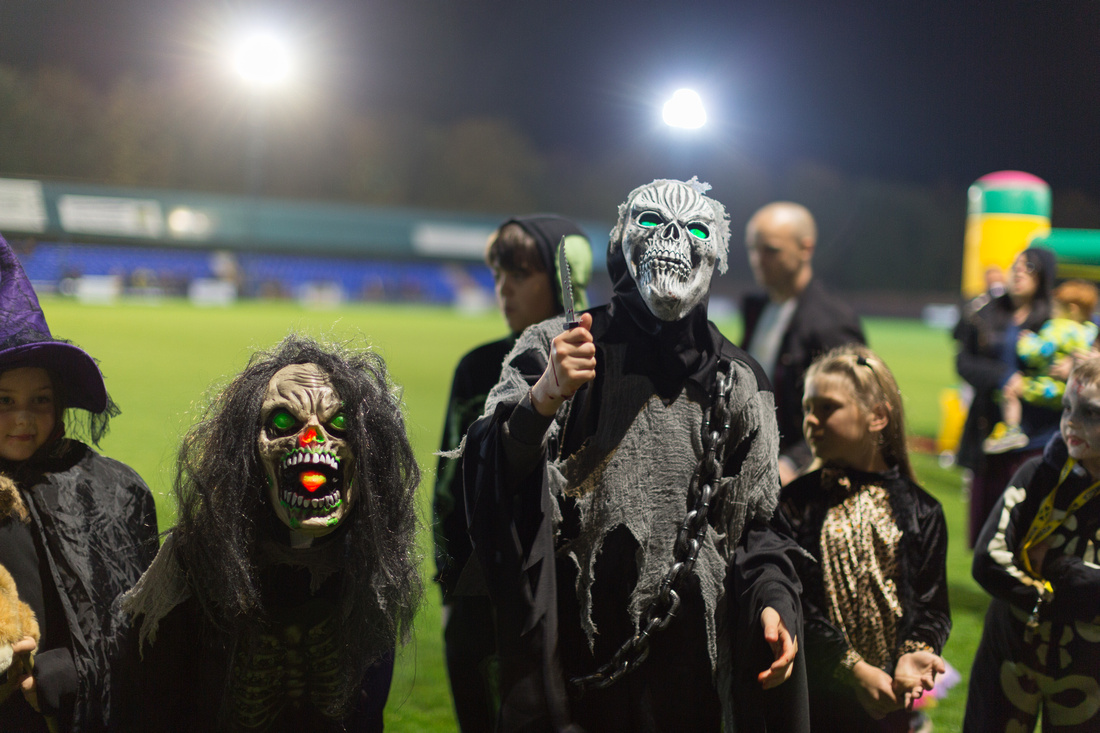 However, she was up against some stiff competition this year.
For all those out there hoping to get some photos of fireworks I am sure that there are hundreds of tried and tested methods and the ones outlined below are just what works for me and may not suit everyone, but I hope they will prove useful. So here are my steps to improving your chances of coming away with some great photographs from the display.
Use a Tripod
If you able to, using a tripod will greatly improve your chances of getting the photos that you want from the evening; this is for 2 reasons firstly, it's going to be dark and you'll want to keep your ISO to a minimum in order to reduce noise in your image, especially in the shadows and dark areas of the sky. By using a tripod you can use a longer shutter speed and keep the ISO down. Secondly I recommend experimenting with longer shutter speeds as these yield different results in the patterns that are created by the light trails of the fireworks, I personally use shutter speeds from 1 to 4 seconds, however, this is a creative choice and you will find a shutter speed to suit the look you are going to for. If you are not able to use a tripod, then all is not lost as you can use a wider aperture to increase the shutter speed without sacrificing too much by raising the ISO higher. If this is not possible then perhaps you can rest the camera on a wall, the floor or any other stable base whilst propping it up to frame the shot. I find a scarf, padded camera strap or rucksack work for me when I'm desperate.
Keep Focused
Your camera's auto focus system may not be up to coping with the dark conditions or the lack of contrast that is often a complication when trying to get these types of shots. My advise is to use a tripod as mentioned above and if your camera supports it, use back button focussing to lock the focus. From here provided you or the camera do not move, hence the tripod, then the focus should be accurate. For more on back button focussing check out this article from the Digital School of Photography, who are a great resource for amateur and professional photographers alike: http://digital-photography-school.com/back-button-focus/
If you are not lucky enough to be able to use back button focusing on your camera, then a great alternative in this situation would be to manually focus. Having nailed the focus you will no longer need to re-focus provided you keep your lens switched to manual focus.
Making it easier for yourself
Having set up the shot, hopefully on the tripod with everything focused correctly, you can take each shot by pressing the shutter button each time a firework sours in to the sky. However, you will need to be careful as you do not want to move the camera too much and throw off it's focus or create blur through camera shake. Therefore an easier solution would be to use a shutter release cable. This allows you to control the shot without touching the camera. Most shutter release cables come with the ability to have the button held down through a switch. In this instance all you need do is put the drive mode of your camera in to continuous shooting, consult your camera's manual or you tube for instructions on how to do this. When in continuous shooting mode with the shutter held down you can then leave your camera to keep shooting while you enjoy the show.
I Hope this post has proved useful and has dispelled some confusion around how to take photos of fireworks. Please comment if you have any questions and please share your photos it would be great to see how they came out.